INTERPRETATION IN THE FIELD OF MERGERS & ACQUISITION PROVIDED BY HARUKA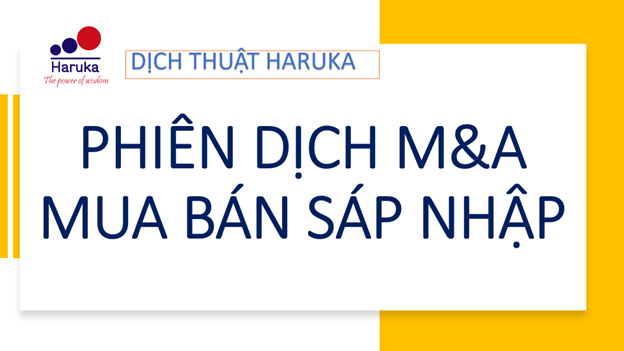 One of the "peak" of interpretation profession is the interpretation in negotiation of mergers and acquisition (M&A)..
This is a field of interpretation that has the most challenge, requiring experienced interpreters..
Being good at foreign languages and mother tongue is natural. In addition, interpreters must have basic knowledge of negotiation skill, communication skill, legal comprehension, flexibility in language, and the ability to respond delicately and sensitively. Especially when it comes to strict confidentiality requirements.
Recently, the demand for interpreters in the field of M&A has increased sharply, the number of customers that order M&A interpreters have increased continuously every month. M&A takes place in many different industries and fields. M&A has become a popular business strategy in the context that the domestic market is shrinking due to the size of the population. When ordering an M&A interpreter, customers often check their translation skills very carefully and interview them first to assess the right candidate for their deal.
M&A is to create synergy to develop the company. So the interpreter must also understand that M&A doesn't make sense if the company being bought is in trouble with lawsuits, or has a lot of off-the-book debt. Negotiating the purchase price is also one of the very difficult contents.
Under such strict requirements, the price of M&A interpretation is rather expensive.
If you have any demand to hire M&A interpretation, please refer our quotation as follow.

Haruka has successfully provided interpretation for many M&A deals and received good feedback and high appreciation from customers. There are some typical M&A translation orders of Haruka as follow:
01/2023, Haruka provided interpretation service for mergers and acquisitions (M&A) negotiation in the manufacturing sector in Binh Duong
06/2022 Haruka provided interpreters for M&A deals in the food sector in Hanoi
10/2019, Haruka provided interpretation for the M&A deal in the beverage sector in Ho Chi Minh City
02/2018 – 03/2018 Haruka provided interpretation for the entire merger and acquisition deal on banking in Hanoi
08/2016: Haruka provided interpretation for M&A deal of a famous restaurant chain in Vietnam