Haruka provided Japanese medical interpretation in Tokyo
Haruka regularly provides medical interpretation services in Tokyo as well as other localities in Japan. With a large number of interpretation collaborators throughout Japan, Haruka has successfully provided many interpretation orders in the medical field, such as medical examination and treatment in Japan, cancer treatment, and cosmetic surgery.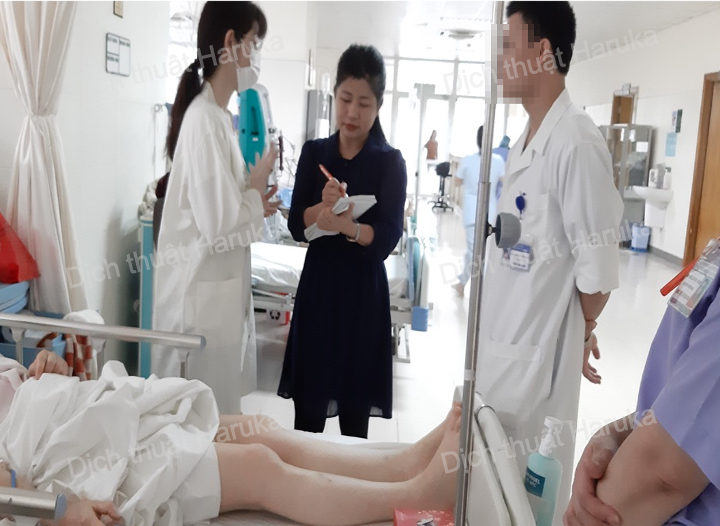 Following are some typical Haruka's experienced collaborators in the medical field who are living and working in Japan.
Brief resume Japanese interpreter 1:
Year of birth: 1983
Year of experience as a Vietnamese-Japanese interpreter: 12 years (5 years in Vietnam and 7 years in Japan)
Diplomas/certificate related to interpretation: Bachelor's degree from Hanoi University, Faculty of Japanese, Certificate N1
Có kinh nghiệm trong lĩnh vực Y tế:Experience in the Medical field:Có kinh nghiệm trong lĩnh vực Y tế:
Because of the particularization related to the management and support of Vietnamese laborers in Japan, it often requires to take employees to medical examination and treatment, from the common cold to appendicitis and heart surgery. With those experiences, I realized the need for medical knowledge.
From March to June 2018, I attended the first 3-month basic medical interpretation training course directly held by EAJ (https://emergency.co.jp/english/). This is an organization specializing in providing multilingual medical interpreters ​​for hospitals inside and outside Japan, and is also the first organization to provide basic medical training for Vietnamese interpreters.
After the training course, I collaborated with Ganken Ariake Hospital Tokyo (a hospital specializing in cancer research and treatment) in the clinical department of Ningen Dock. In addition, I also cooperated to translate for Vietnamese companies that have tours combined with medical examination.
The hospital regularly in charge is NCGM (https://www.ncgm.go.jp/en/index.html) Tokyo, Ningen Dock clinical department.
In addition, from 2016 up to now, I have been in charge of interpretation for a male customer who has been treated for prostate cancer at Ganken Ariake Tokyo Hospital. Apart from practical experience, I myself always cultivate more basic knowledge from familiar interpreters, who are nurses and nursing staff at Japanese hospitals.
Giới thiệu củBrief resume of Japanese interpreter 2 (female)
Year of birth: 1989
Years of experience as a Vietnamese-Japanese interpreter: 1.5 years
Related certifications:
7/2015: Certificate of Japanese Language N2
12/2018: Certificate of Japanese Language N1
7/2018: TOEIC 710
Work experience in Japan related to the medical field
5/2017-5/2018: Genki Group Holdings Joint Stock Company
The company specializes in the field of nursing and care for the elderly.
Job duties: In charge of supporting the life and work of Vietnamese trainees and international students working at the company (interpreting). Directly monitor and care of the elder's life.
Brief resume of Japanese interpreter 3:
Year of birth: 1985 (female)
Number of years of experience in interpreting: over 8 years (18 years living in Japan)
Experience in the medical field: has a lot of experience in bringing relatives and acquaintances to clinical examination, dental examination, oncology examination, pediatric department, etc. at hospitals and clinics in Japan
 Assessment of individual capability: experience in many fields such as Business, Economics, Infrastructure Construction, Atomic Power Furnace, Information Technology and Healthcare.