Vietnamese interpretation services of the highest standard in various fields
We provide reliable Vietnamese interpretation services for global conferences and seminars, business negotiations and business alliances with companies/organisation, and inspection tours.
We have more than 1,500 interpreters, the largest number in the Vietnamese interpretation field, and our experienced coordinators will arrange the best interpreter for your needs.
We dispatch interpreters all over Vietnam, including Hanoi, Ho Chi Minh City, Hai Phong, and Da Nang.
Vietnamese Interpretation Fee
(Between Vietnamese and English, Japanese, Korean, Chinese, Thais, Burmese, Hindi, French, German, Italian, Spanish, etc)
Interpreter level
Half a day
(4 hours)
Full day
(8 hours)
Simultaneous
interpretation
From 8.000.000
From 14.000.000
S level
Consecutive Interpretation
From 3.000.000
From 4.000.000
A level
Consecutive Interpretation
From 1.500.000
From 2.000.000
B level
Consecutive Interpretation
From 1.000.000
From 1.500.000
The above is a standard price.
We will propose the best interpreter that meets your needs. Estimates are free, so please feel free to contact us. Please contact us here with the date, time, place, number of attendances, and content.
Type of interpretation
Consecutive Interpretation
Is a type of interpretation that speaker will talk in each paragraph and then interpreter will summarize it and interpret.
Because speaker and interpreter alternately speak, so the time is always taken twice more. 
Interpreter needs to interpret spoken content that were summarized to a certain extent, so it requires a good ability of record and remembering.
Simultaneous Interpretation
Is a type of parallel interpretation, both listening and interpreting. 
Always using in large scale conference or seminar in a long duration, and using equipment in another place (cabinet) to interpret. 
Because speakers will speak with a normal speed, interpreter has to have a good ability of foreign language and intense concentration.
Whispered Interpretation
Like simultaneous interpretation, but interpreter will not sit in the cabinet, they will stand near the client and interpret in a loud enough for hearing . 
Because of not using equipment, this type of interpretation is suitable for internal meeting where a few number of people need interpretation.
Classification of Interpreter level
SIMULTANEOUS
They are consecutive interpreters in specific fields related to Governmental officer, interpreting in International Conference that require high quality profession.
S Level
Over 10 year experience, it can provide consecutive and simultaneous interpretation in the context of international summit, conference or seminar.
A Level
Over 5 year experience, it can provide consecutive and whispered interpretation in internal meeting, business negotiation or training.
B Level
Over 2 year experience, it can provide consecutive interpretation for simple business negotiation.
Cases of Vietnamese Interpretation
| | |
| --- | --- |
| Medicine | GMP Audit Compliant, GMP mock audit, FDA Audit, FDA inspection, Conference for a system for a pharmaceutical company, Pharmaceuticals / Approval application, Medical examination equipment, Vietnamese market research, Product presentation lecture, etc. |
| Finance | M&A, IR meetings for financial companies, Seminars for investors, Audits, etc. |
| IT | W3C, Information Security Audit, Software Benchmark Testing, Software Training, System Integration, System Development |
| Energy, Environmental | Joint Crediting Mechanism, Coal and mineral development projects, Seminars on biomass energy utilization, Workshops on river environment, Climate change, Environmental assessment ets. |
| Logistics | Logistics company internal meetings, Transportation and logistics seminars, Training of Logistics, Interpretation with exhibition booths, Business negotiations with import agents |
| Construction | Material business negotiations, Installation work attendance, Factory tours |
Order cancelling
After receiving official order, interpreter and coordinator will stay together and prepare in advance.
Interpreter has arranged his/her working schedule for that day, so if the customer cancel or stop earlier than schedule. Interpreter will take a great disadvantage. Thus, we will charge for order cancelling cost.
| | |
| --- | --- |
| Cancelling duration | Cost |
| 10 days prior to scheduled interpretation day | 30% |
| 5 days prior to scheduled interpretation day | 50% |
| 3 days prior to scheduled interpretation day | 70% |
| Right before scheduled interpretation day, that day | 100% |
Our company was officially established in 2012 by Japanese and Vietnamese people who have been working in the field of translation since 2003.
Now, we own over 1.000 professional interpretation collaborator in English, Japanese, Chinese, etc..
Our customers
We have been providing services for state agencies, banks, universities, manufacturer, consultant company, tourism company, etc.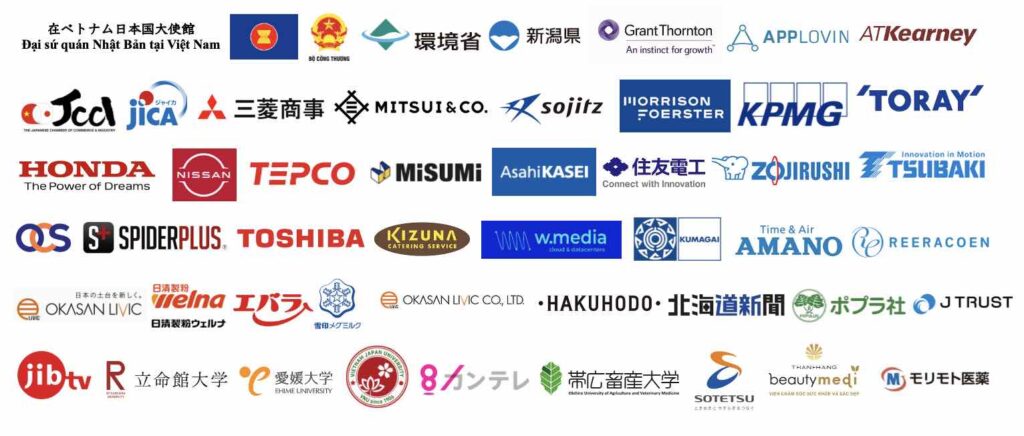 Procedure for using Vietnamese Interpretation service
1. Inquiry

Please let us know the following items from the inquiry form.
Interpretation language, date and time, location, content, type of interpretation (consecutive/simultaneous)
2. Get quotation

Based on the information you send us, we will provide you with an estimate and the profile of some interpreters.
If any information is missing, we will ask for additional information.
3. Order

After confirming the quotation, please send us your order by e-mail. 
If you wish to conclude a contract, please let us.
4. Preparing for intepretation

If you have any materials to use, please send them to us.
Please let us know the meeting place and time.
5. Interpretation

On the day of the interpretation, the interpreter will go to the site and interpret.
6. Payment

Please pay the fee by bank transfer, Paypal, Wise, etc.
FAQ
In case of shorter time than schedule, so can the interpretation price be cheaper?
There is cheaper case. But by that time, we will charge based on actual time of that day, so for instance 1 hour interpretation does not mean to round up to 1/4 of half a day (4 hours).
I want to employ an interpreter, which information do I need to provide?
Let's provide time, place, number of persons.
If I require an interpreter right before starting interpretation session, whether the company can respond?
Even you require to employ an interpreter right before the day of starting interpretation, we will try our best to respond.
By that time, please contact with following telephone number.
What can I do before starting the interpretation session?
There are only some requirements.
If you have any document or text related to interpretation content, please provide it to us.
If the interpreter can comprehend the content in advance, the accuracy of interpretation will be better.
How can I pay the interpretation fee?
You can pay the fee by bank transfer, Paypal, Wise, etc.
After sending a requirement for interpretation, can I cancel it?
You can cancel.
However, in some case, there need to pay the cancelling fee.
I want to check interpreter's qualification, Can I make an interview in advance?
You can make the interview in advance via Skype or telephone.
If interpreter accept, you can make interview directly.
Can the Company provide interpreter to local city in Vietnam such as Bac Ninh, Hai Duong, Binh Duong?
Yes we do.
However, you have to pay traveling cost for interpreter to come to those city from Hanoi or Ho Chi Minh city.
You can also let interpreter to come with you. In addition, if arising staying overnight, you have to pay accommodation and meal fee for interpreter.
Let Haruka bring you the best translation!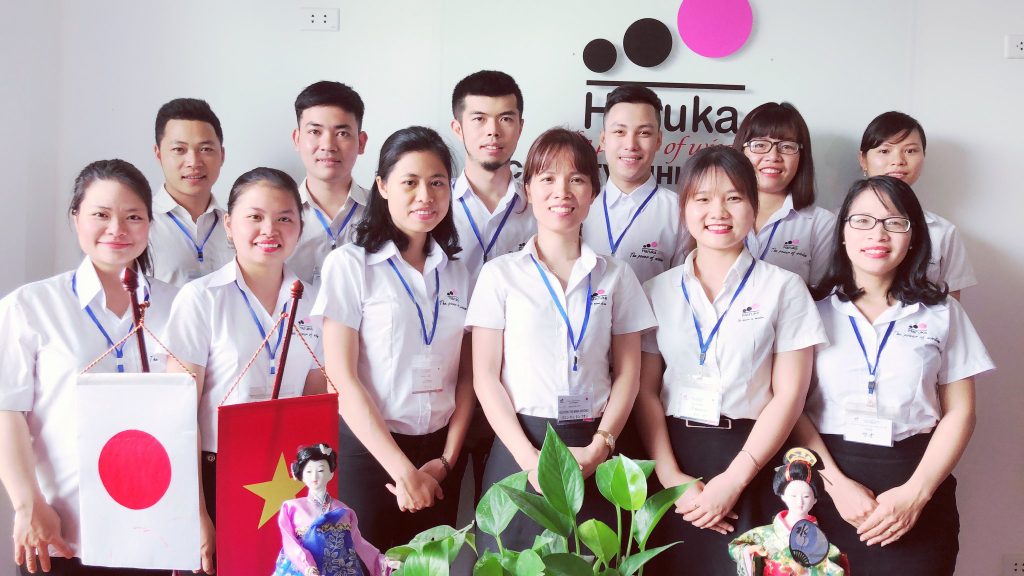 Haruka Company is one of leading translation companies with a reasonable price in Hanoi.
Providing translation and interpretation service in English, Japanese, Chinese, Korean, French and German, etc for at home and abroad companies with the collaboration of over 1.000 professional persons .
We have been providing interpretation for Governmental agencies, banks, universities, manufacturer, insurance companies, real estate companies, consultant companies, tourism companies, TV broadcasting, press, etc